Welcome aboard the
Unforgettable Moments
Blog Train! If we haven't met before let me introduce myself, I am Amy and I sell "Unforgettable"
digi-scrap goodies
at
GingerScraps.net
(the friendliest place in digi-land
). My design name is
Unforgettable Moments
because scrapping and documenting memories is an effort to make all different kinds of moments unforgettable. It is nice to meet you! Feel free to follow my blog so you can keep up with all the Unforgettable goodness we have going on around here!
I'd also like to invite you to sign up for my newsletter! It is brand spankin' new! I haven't even sent out my first newsletter yet. Be one of the first to get on my mailing list, and receive the very first newsletter. I am currently working on an exclusive "thank-you-for-signing-up-for-my-newsletter" gift for my subscribers. It will be an incredible digi-kit, but I will keep it a surprise for now! Those that sign up will get the gift first in my first newsletter. Everyone else will get it for a limited time when they sign up. I ended up having quite a full plate, so I don't have the digi-gift finished yet, but it will be ready sometime early June. Let me tell you the gift so far is turning out amazing!! Anyway I would just love to be able to keep in touch with you so I hope you consider signing up for the newsletter. You will find the subscribe box in the side panel on the right.
OK lets get on with the Blog Train!
You should have arrived from
Diamond Ink Designs
and when you are finished here your next stop will be
Luv Ewe Designs
If you need a map you can head back to the train station "The Blog Train Blog"
HERE
I decided to contribute to the Train again this month. I wasn't sure if was going to participate again this month, but I decided to give another shot. Isn't the color pallette and theme cute this month?
I think the swatch and theme is adorable!
This month I made six papers, 11 elements, AND an alpha all for free- for all of you! There is a fabulous coupon in there for you too-so unzip this mini and check out the coupon because it expires at the end of the month!
I hope you like it the mini kit I made for you train riders. If you like and decide to download please don't forget to leave a comment- comments really mean a lot since it took time and energy away from my own little monkeys, and housework ;) to bring this to you. Here it is...
To download from
4Shared
click:
HERE
To download from
MediaFire
click
HERE
(both of those are the EXACT same things just giving you different download site OPTIONS)
Here is a little TIP when downloading from free file transfer sites such as the ones above. They make their money from advertising. They do some really sneaky advertising sometimes too. If you click on the link and you get a page of ads then check the address bar. If there is a "adf.ly" then some numbers after the "http://" and then the "http:// mediafire address" erase everthing in front of the "http:// mediafire address" in your address bar and then re-load the page. For example if you get "
http:/ / adf.ly . xyz123
http:/ / mediafire123xyz" then erase everything before the second http and then reload the page. Hopefully you won't have to deal with any of this and you can go straight to your download!
I hope you enjoy the Blog Train!
Don't forget to sign up for my brand new newsletter: Unforgettable News
I hope you have plans to get out there in your part of the world (with your little monkeys maybe?) and make some Unforgettable Moments :)
Ginger Scraps Buffet ($1 Today)
If you like to camp you are going to love the GingerScraps Buffet this month! The Buffet is sort of like a "pick your own collab." The GingerScraps Designers are given a theme and a color palette, and make a variety of $2 products. You can "eat" as much or as little as you want... and you can even come back for seconds! hehe! The products are half off, One dollar a piece, their first day released.
For June the theme is Camping! The color palette is a lovely earth tone palette. You'll have to go and check out what the other designers have for you for the June Buffet. Here is what I have for you... (images linked)
Each of those product will be $1 today, after today they will still be priced well at $2 a piece (which is still a great deal, but you can't beat $1).
Unforgettable Girl Roxana made this layout, and it was already picked up on another site as a GSO...
Katie made a layout, and this shows that you don't have to have camping photos to get a cute layout...
Here is a fun one by Kim...
Rebecca is displaying her creativity here with this great page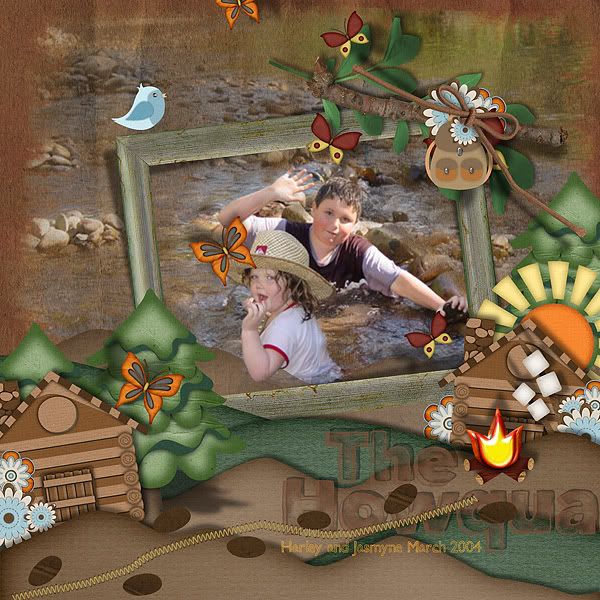 Donna used the Camp Out buffet and my Living Large Templates to document these cool... I meant hot... photos:
Happy Scrapping, and as always thank you for visiting my blog today!
xoxo