Have you fulfilled your heart's dream? Are you still longing for something deep in your heart? Are you currently working toward the dream of your heart? These are the questions I imagined layout artists asking themselves as they scrapped with the February blog train items.
Rosey Toes Designs
is the stop right before me, and when you leave here you'll be heading to
Torta Gialla
's Back To Paper Blog. If you need to head back to the "station"
The Blog Train Blog
is the place to go.
Here is my contribution. I decided to participate in the blog train again this month because I got so many sweet comments last month on my January Freebie. If you download these freebies please leave a comment! I hope you can use this to scrap something that is near and dear to your heart. :) Here is the freebie mini kit I made for your scrapbooking pleasure...
Guess what?!! There is a special little coupon tucked in there for you too!
This mini kit contains:
6 papers
1 border with over lapped stitches
1 frame
1 paint dabs element
3 acrylic flowers
1 fabric flower with button and bow
2 ric racs
1 heart ribbon
1 metal heart
Word Art:
Follow Your Dreams
YOU are my heart
Sweet (in metal)
HEART (bling)
LOVE (bling)
Download (MediaFire) Blog Train Mini Kit Freebie EXPIRED
(The link has been tested and works. If you experience issues downloading this freebie please try again. Often times when downloads are interrupted it is becuase of a "hiccup" in the internet connection during the download process)
If you'd like a free Quick Page I have one for you that was made using my freebie mini kit contribution to the "My Heart's Dream" Blog Train
The title on the QP layout "Sweet" is exclusive to the QP, it doesn't appear like that in the mini I made.
Download Quick Page Freebie
HERE
(This link has been tested and works very well please try again if you experience "The Download Blues")
Anyway, I hope you are enjoying the blog train, and I hope you continue to find your heart's dream!
I also wanted to add...
If you like freebies you will love this! A fellow
GingerScraps
designer, Statements By Jodi, and I teamed up and made a beautiful "family-love" themed kit. It will be the
GS blog
daily download, so during the month of February you can get the kit bit by bit
FREE
.
This kit isn't a regular blog freebie because after February the kit will be put in the
GingerScraps store
. I also happen to be hosting the color challenge during the month of February- YAY!!. It is called the "
Food Coloring
" challenge at GS. The challenge will be to scrap a layout in the colors of the daily download kit. Everyone who participates in the challenges will receive a participation prize AND be entered into a drawing for one of three $5 gift certificates to the
GingerScraps
store. If participants use at least 75% GS products in their layout their name will be entered into the drawing twice! Since the daily download kit is GS it counts as GS products for the second chance to win the $5 gift certificate. If you've never hung around
GingerScraps
before you need to register for the site and look around. The admin are always handing out RAK's if they happen to see new user names.
GingerScraps is such a nice to place to be, and they are also keeping up with the times!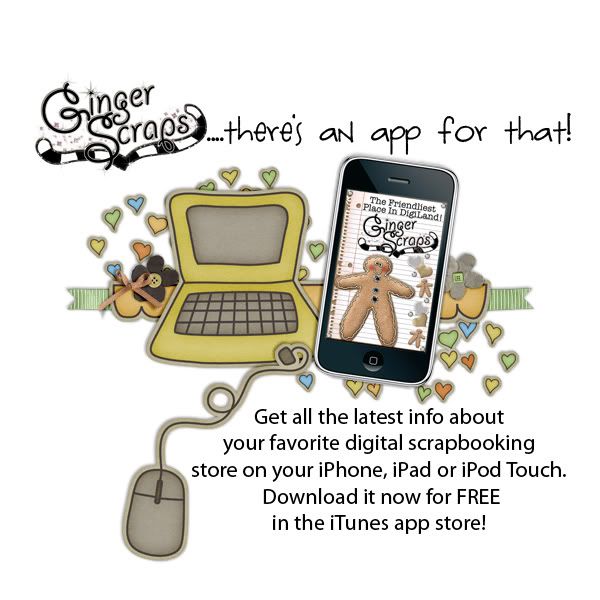 I hope you take advantage of all the cool things
GingerScraps
has to offer, and while you are there come say hi to me on the February color challenge thread. Enjoy your freebies, take care, and
keep following your dreams!!
Hugs!!