I have been enjoying The Amazing DigiScrap Race (ADSR) so far. It has been fun!
The first challenge was hosted by NDISB (the event organizer too), and the challenge was to choose a photo that we didn't really like and make a page we love. Here is the page I made for that...
I used Tweet Heart Collab by Just Jaimee and Truman Studio
Here is the page that my partner Katie made...
She used products: A Family Story by The Digi Chick designers & For the Love by Jady Day Studio
The second challenge was hosted at With Love Studio, and the challenge was to scrap something that has changed your life (and journal about it), and use "Because of" in the title, but do not use "you" in the title.
Here is my page...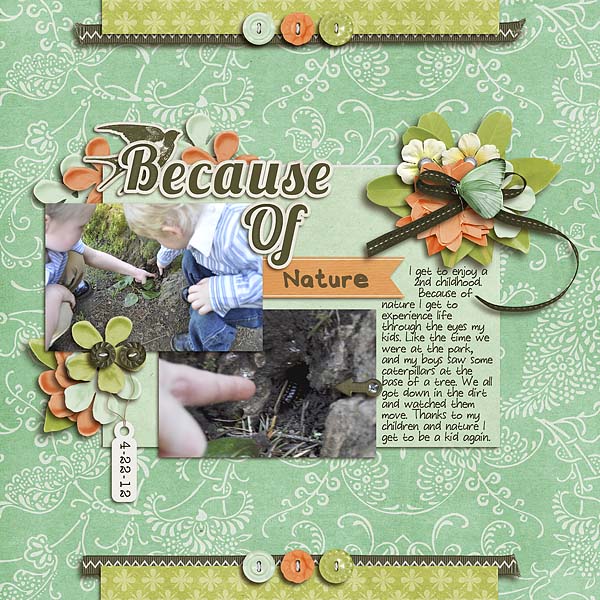 I used Spring Forward by Melissa Bennett
Here is Katie's page...
she used Road Trip by Creations by Rachael; a kid alpha by Britt-ish Designs
The third challenge was hosted at Hummie's World. The challenge was to first make a digital stamp, and then use it in a layout. In my page I made the "Certified.... Handsome" stamp (which may make an appearance in a future kit of mine!). The stamped alpha is from the kit I used. Here is my page (this is my nephew)...
I used
Rustic Charm
kit by Unforgettable Moments :)
Here is Katie's page-- pages. She did a double...
She used Party Pants by Miss Mint, Template by Plum Dumpling Designs, Other Papers by Happy Scrap Girl, Jeni Hopewell, Sarah Bennett, Alpha by Britt-ish Designs
Her stamp is the Birthday Girl stamp on the background paper
The fourth challenge will be fun! It is hosted by
GingerScrap
s. I will need to get that challenge done by Sunday! I am also working on a kit right now too, so I have a double whammy challenge lol!
ADSR has been fun for me! It is fun to play with scrapping and enjoying the company of other scrappers. I hope you are taking some time to get some fun things done too!
See you soon!
Amy